Cornelia Ortmüller-Lang celebrates 25 years with Philipps-Apotheke in Marburg
On October 1st 2011 Mrs Ortmüller-Lang celebrated her 25th anniversary of working in our pharmacy.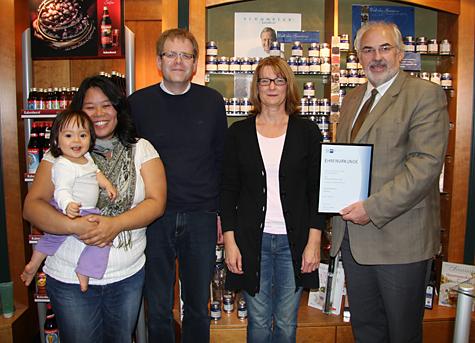 After completing her assistant training in Baum-Apotheke, Gladenbach, and following a brief interlude in Lahn-Apotheke in Marburg, Cornelia has ended up spending almost her entire career with us in the Oberstadt. Our customers value her quiet and friendly manner and we colleagues admire her expertise, particularly in the back office where she masters constant changes, new computer systems and so on with great aptitude.
Thanks to her organisational skills she has contributed greatly in arranging frequent modifications, refurbishment of the workshop, planning of company outings and training as well as special promotional days in the pharmacy.
Even the transition of pharmacy management, from Mrs Bärbel Kaufmann to spouses Nan-Si and Sascha Brass, and the reorganisation that this involved, would have been difficult without her continual support.
We congratulate Mrs Ortmüller-Lang on her 25th service anniversary and thank her for her dedication. We hope that we will spend many more successful years together in the pharmacy.
The team at Philipp-Apotheke