Celebrating 25 years of service in Philipps Pharmacy Marburg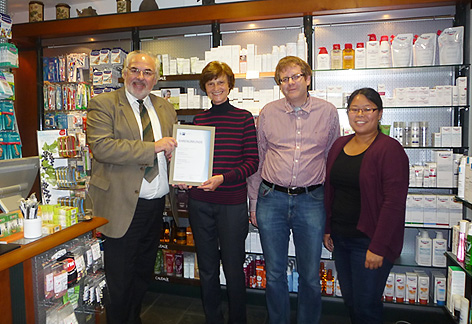 From left to right: Henner Geil (ICC), Gabriele Bohn, Dr Sascha Brass und Dr Nan-Si Brass
Frau Gabriele Bohn (born Lengfelder) studied pharmacy in Marburg from 1971 - 1975 and then worked as a licenced pharmacist in the Haspel pharmacy in Marburg. Following the birth of her two children she worked in Philipps Pharmacy temporarily and then from 01.11.1989 she was employed on a half day basis.
Frau Bohn is always ready to undertake any tasks that are required in a pharmacy. Her main area is sales, which has changed considerably within the past years. Whether getting to grips with the challenges of new computer settings, the constantly changing health insurance requirements or special delivery contracts, Frau Bohn settles into new tasks quickly in all areas.
Frau Bohn has developed into a highly competent pharmacist through numerous training and further education courses. She is able to impart even complicated information to customers in an understandable way.
As well as her readiness to be where help is needed the most, dispensing prescriptions or the essential laboratory investigations, she also takes care of more unattractive tasks such as the disposal of unused medicines and much more.
All in all she shows great commitment to the pharmacy and the customers as well as to her colleagues. The whole team at Philipps Pharmacy give heartfelt congratulations to Frau Bohn on her service anniversary together with thanks for her dedication and ever friendly and cheerful manner. We hope that we will be able to spend much more time together with her in Philipps Pharmacy.
Doctors Sascha and Nan-Si Brass and her colleagues.
Zur To overview